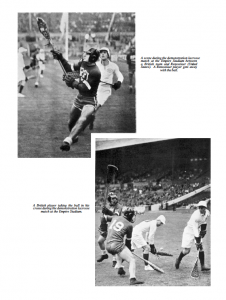 From the IOC Report:
The organisation of the Lacrosse Demonstration was carried out by the English Lacrosse Union and this body invited a team from the United States of America to play a match at the Empire Stadium against an All-England Lacrosse side. The visiting team was the Rensselaer Polytechnic of Troy, New York State. The U.S.A. team had carried out a tour in Great Britain, and concluded this with the fitting finale of the match at Wembley. The modern game of lacrosse is believed to have originated from a tribal game known as " ball game " of the North American Indians and was brought to England by the settlers in Canada in the 18th or 19th Century. It is played not only in Great Britain, but also in Australia and Canada and, most prominently of all, in the United States of America.
The teams at Wembley proved to be excellently matched, and the resulting game was both close and exciting, in addition to being one of the best exhibitions of lacrosse ever seen in England. During the first quarter (the game consists of four 20-minute periods), Whittaker opened the scoring for the English side, but the Americans soon asserted themselves and went away to a 4-1 lead with goals by Coleman, Myers (2) and Wood. Before the end of the period, however, Little had reduced the margin. An Exciting Finish There was no such goal-scoring rush in the second and third periods, a single goal by Wilson, which reduced the margin to one goal, in the second period, being the only score. The English team, however, turned on full pressure at the start of the final twenty minutes and first Whittaker equalised with a brilliant goal, and then Dennis put them ahead. It seemed likely that they would hold their lead, for the defence was now closely knit, but, in a most exciting finish, Myers put the Americans on level terms with only three minutes left for play.