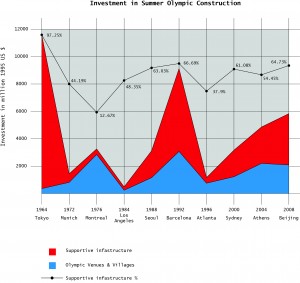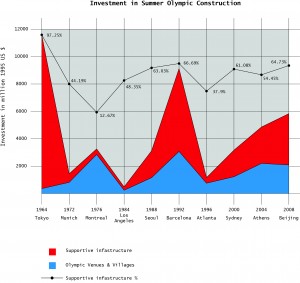 The data was all for summer host cities.  If someone finds investment information about any of the games not listed above I'd like to see it please.
The International Journal of the History of Sport
 "A Brief Historical Review of Olympic Urbanization"   by Hanwen Liao and Adrian Pitts
– Excerpt –
– Planning in Olympic Host Cities: Successful Olympic Urbanization
A successful Olympic urban scheme seems always to be associated with a suitable and linked long-term master-plan for the host city in terms of project determination, land usage, resource mobilization and development orientation.  Emphasis on such may help to avoid over-ambitious initiatives triggered by infatuated enthusiasm, or any hasty decision-making because of the tight Olympic deadline.  It also helps to rationalize the budgetary deployment so that Olympic projects do not overshadow the development of other essential facilities in the city.