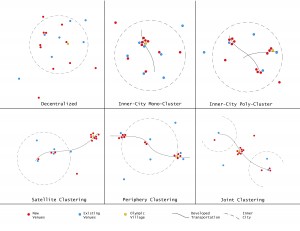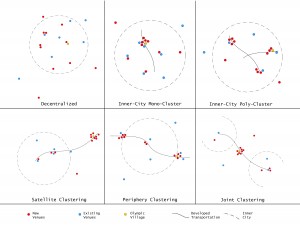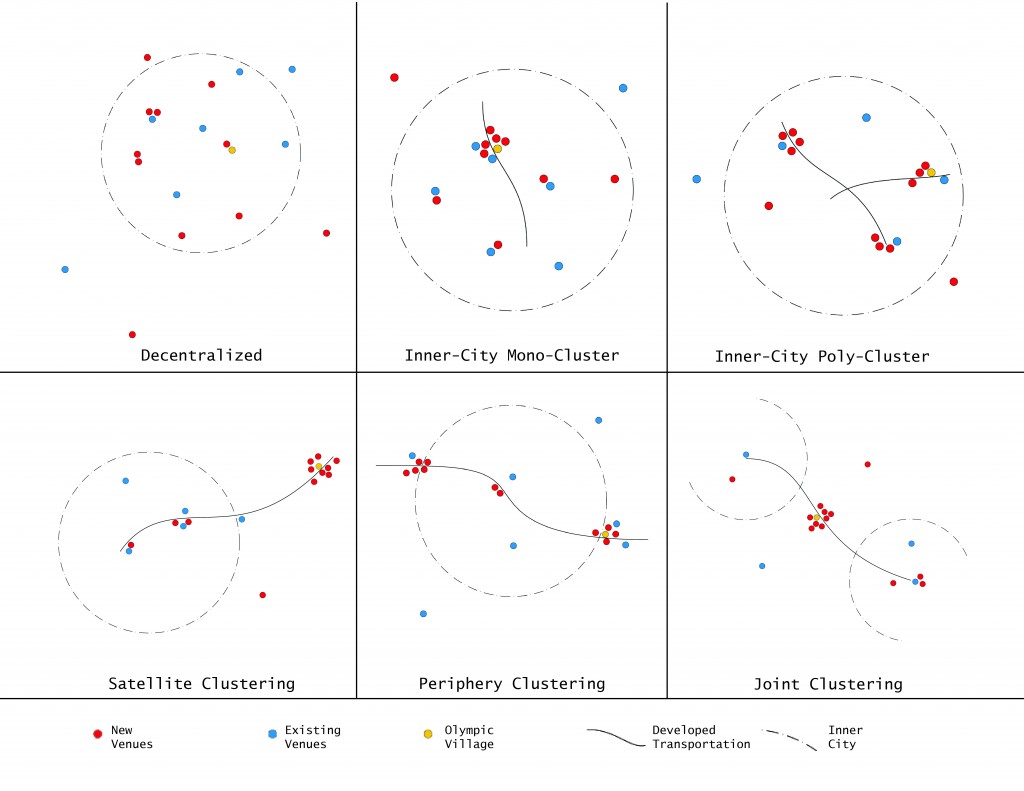 I am still developing this diagram.  If you have any comments or information pertinent to this I'd love to hear it.
The International Journal of the History of Sport
 "A Brief Historical Review of Olympic Urbanization"   by Hanwen Liao and Adrian Pitts
– Excerpt –
– Planning in Olympic Host Cities: Successful Olympic Urbanization
A successful Olympic scheme also derives from a holistic planning concept that respects the distinct character of host cities in urbanization conditions, demographic change, socio-economic reality and environmental deficiencies.  This is particularly reflected by the integration of major Olympic facilities into host cities' urban fabric as fundamental to the overall planning intervention.  Historically Olympic sites have been integrated with cities in six models, with each having different advantages and limitations, and should be used or adapted based on local externalities.
In general, the decentralized model is suitable for a city having good civic infrastructures, with no obvious environmental deficiencies to be redressed in a planning manner, yet a partial adjustment of its urban fabric to balance the holistic development.  Inner-city clustering models are suitable for a city suffering from inner city decline, suburbanization and hence sprawl.  They can help to re-nucleate an even dispersed urban form and introduced large green and public spaces to the city's central mass.  The periphery clustering model is suitable for cities experiencing a considerable population growth, with outward development pressure and expansion needs.  It can help to define the development orientation and convert an outspread urban form into a linear-shaped transit-oriented form.  The satellite clustering model is suitable for large conurbations where internal development pressures need to be organically dispersed and multi-hierarchy settlements need to be reinforced in the whole region.  The joint clustering model is suitable for the coordination of two closely located developing urban areas for a strategic development.