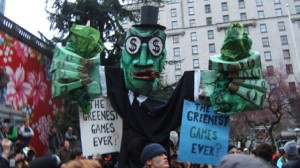 International environmental watchdogs, such as Greenpeace and the United Nations Environment Programme have become more vocal on large scale sporting events trying to get the respective organizing committees to think about all issues that encompass an event from pre-event planning to post-event reuse and recycling.
Greenpeace has created Olympic Environmental Guidelines that outline 34 guidelines that should be addressed when planning for the Games.  Click here to read them.
The United Nations Environment Programme has partnered with the IOC since 1994 to advise them on environmental decisions regarding the Olympic games.