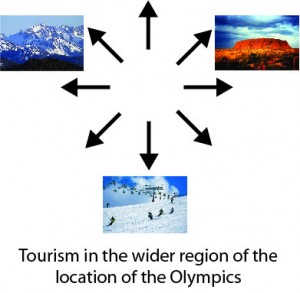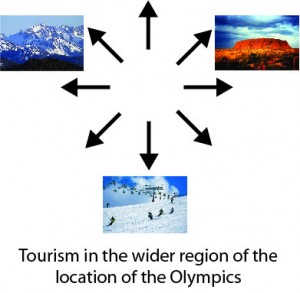 Easier and more common for Winter Olympics games.
– Winter Olympics Cities
– smaller  cities
– less population
– less commercial funding
– large number of sports located outside of the city.
– able to promote surrounding attractions such as ski resorts.
Recent Olympic City Examples:
Sydney – 2000
– surrounding areas attracted tourist as well. (Apposed to what Atlanta did, which was to tell the surrounding states to stay away.)
– tourism did increase after the games but was derailed by the travel panic caused by Sept. 11th.
Salt Lake City – 2002
– pre-Olympics Salt Lake City was mostly a domestic tourism location
– goal was economic development and tourism.
– tourism plan consisted of the 1000 day plan, 150 days before and 850 days after.
Turino – 2006
– tourism model based off of Barcelona Olympics
– wanted to become a tourism destination of the world as well as in Italy.
– advertising approach involved attracting tourism before the game, starting right after receiving the bid to way after
the ends of the games.
– Because of many sports located outside of the city, there was a major increase in transportation, therefore better infrastructure for both winter and summer sports outside the city.
Vancouver -2010
– used Salt lake City as an example because also in North America
– tourism plan involved from 2008 to 2015
– Oregon took advantage of the proximity to Vancouver.
– attracted athletes for acclimatizing training
– attracted skier and snowboarders that would be avoiding the Vancouver and Whistler ski resorts close to and during the Olympics.