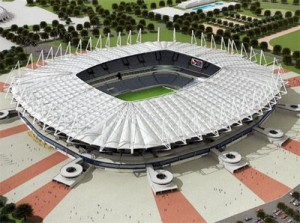 World Cups utilize multiple stadiums
across a country and bring them
together for one competition between
nations. In 2006, Germany was again
able to show its changed image. For
the Brazil Games, the country is having
to build the image. New stadiums are
being constructed and old stadiums
are being renovated. Sustainability
issues are coming into play and new
technologies are being proposed. Roofs
that collect all of the water that
the structure needs and new urban
landscapes are reshapping Brazil. The
game itself, is important to all of
these changes. The global love of
football helps to implement these
shifts and helps to make the stadiums
built for the World Cups utilized
after the Games unlike a lot of the
facilities built for the Olympics.