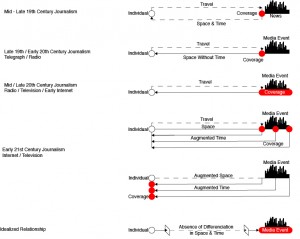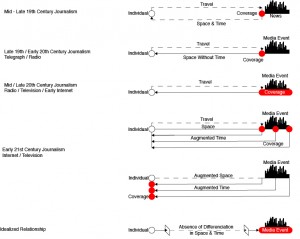 In the mid to late 1800's, traveling journalist became necessary for newspapers to satisfy the desire of communities for information during the Civil War. In order to obtain information, the journalists would have to travel to the news source, obtain the information, and then travel back.
By the late 19th century, the journalist no longer had to travel back to send the information; the telegraph allowed the information to be sent over large distances instantly. The seperation of the individual and the news was no longer seperated with time (space without time) and the Media Event was born.
In the mid and late 20th Century, the radio, television and early internet helped bring about a contious coverage of events (both news and media events). Instead of these events being viewed as singular points in time, they began to have depth in time.
By the early 21st century the way that media covered the event became variable. Coverage of the media event could be split into peices and intermixed, thus augmenting the sense of time of the Media Coverage. Another method has been to displace the coverage of the event closer to the individual; accomplished by outsourcing filming of the event to sources more local to the Media Event. This distorts the sense of both space and time.
Many of these models attempt to allow the individual to feel like they are a part of the Media Event, suggesting the absence of differenciation in space & time between the individual and the media event.